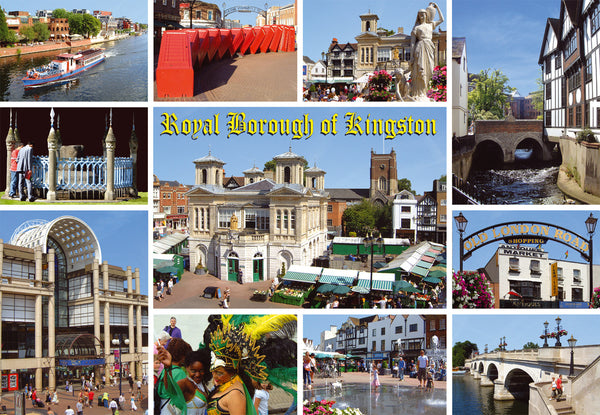 Royal Borough of Kingston Upon Thames - Montage
The name Kingston - meaning Royal Manor (derived from Cyninges Tun or Cingestune) - first appears in an agreement between King Ecgbert and Coelnoth, Archbishop of Canterbury, at a council held there in 838. The Anglo-Saxon Chronicles record that King Athelstan was consecrated there. Tradition has it that Kingston was the coronation place of other Anglo-Saxon kings. Doomsday Book records that Kingston was part of King Edward the Confessor's farm and that there was a church, 5 mills and three fisheries.
A Royal Charter was granted to Kingston by King John in 1200. In 1603 James 1 granted the town a Saturday Market and in 1927, King George V confirmed Kingston's status as a Royal Borough. In 1965, Queen Elizabeth ll granted another Royal Charter which entitles Kingston to continue to use the title 'Royal Borough of Kingston upon Thames'.
Photo Montage Postcard
Digital Media
300gsm Card
Image Size: 14.9 x 10.5 cm
Product Details
| | | |
| --- | --- | --- |
| Code | Type | Dimensions |
| PC12 | Postcard | N/A |
Collections
Related Artwork in Kingston Upon Thames